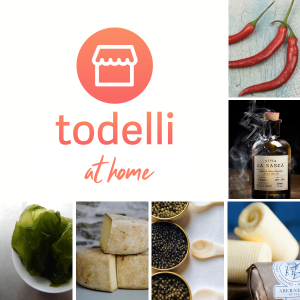 We have just launched Todelli at home to help people in London to get deliveries of food items & produce to their homes. For this limited period, we are going to allow non-restaurants (consumers) to open Todelli accounts and order food items via our online and android app from suppliers around them.
If you know people who might need this please spread the word of mouth or try the web or android app for your home: todelli.com
We will be donating back to the @hospitalityaction campaign to support Chefs and hospitality staff that have been suddenly facing hardship. This initiative will also support our producers and suppliers that are having fewer orders from Restaurants during this difficult time. We stand with you & with our community members during this challenging period.
Here is a list of some of our farmers, producers & suppliers to have a look at:
Cottage & farm cheeses and yoghurts
Oils & Vinegar
Herbs & Spices
Popcorn, Granola and organic oils
Matcha tea
Avocados
Kimchi
Samosas
Sea salt
Gravlax and Smoked Duck, chicken and salmon
Lamb
Charcuterie
Chocolate from Willie's or Love Cocoa
Cordials, juices & water
We stand with you,
The Todelli team