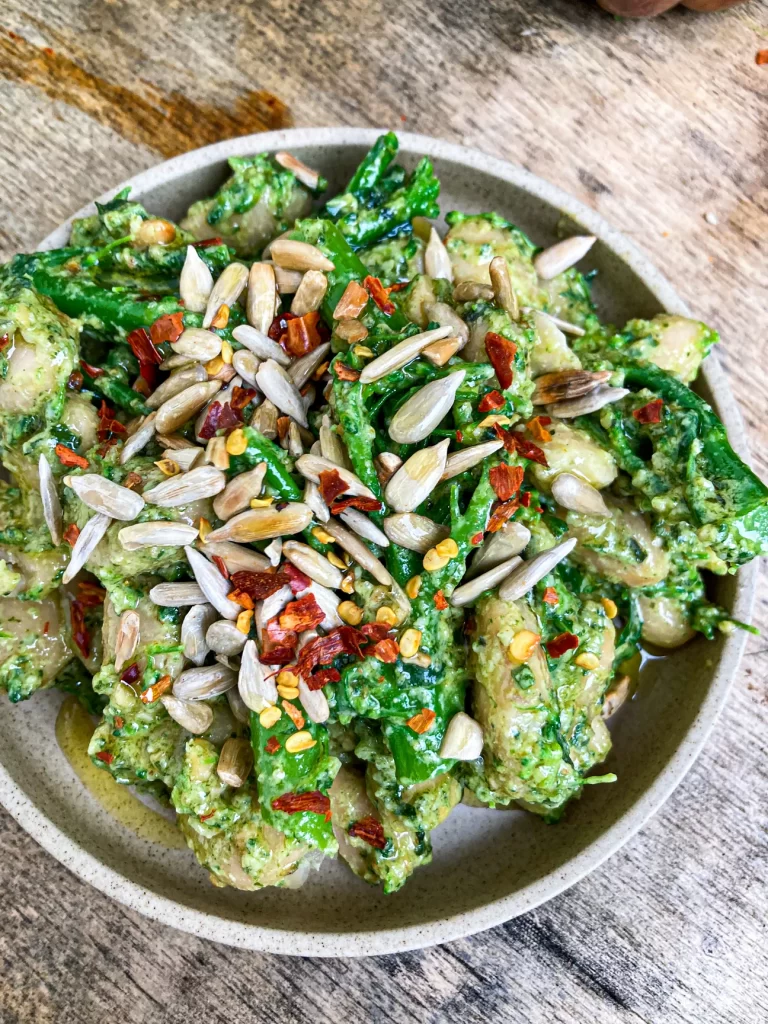 Did you over-do it on the Christmas roasties? (us too!). Well here's something fresh + punchy to give you that health of boost + beans we're all craving. A vegan recipe that is easy to make and that we promise you will love!
Servings
3-4 as a side or toast topper
Cook Time
15 minutes
Author:
Ingredients
30 g fresh basil
70 g pine nuts, toasted
2 garlic cloves
25 g parmesan or veggie alternative, grated
4 tbsp olive oil (we recommend using Onsuri)
The juice of 1 lemon
1 x 700g jar of Bold Bean Co Queen Butter Beans (or 2 x 400g tins)
100 g cooked broccoli
2 tsp chilli flakes (or our favourite Kimchi Seasoning flakes)
2 tbsp mixed seeds, such as sunflower and pumpkin
Directions
Add all of the pesto ingredients to a blender and blitz until smooth. If it's looking a little thick, add more olive oil until you reach your desired consistency.
Add the beans to a pan with a few tablespoons of their bean stock over a medium heat. Add the pesto to the beans followed by the broccoli and stir to combine. Gently warm through for a couple of minutes.
Toast the seeds in a dry pan for 1-2 minutes until golden, toss in the chilli flakes at the last minute.
Serve the pesto beans as they are or onto toast. Top with the chilli seeds and a squeeze of lemon, if you like it zesty.
Don't forget to tag us @todellisocial with your dish and we will repost it on our social.
Get 10% OFF on your first order on Todelli: use code FOODIE23 at checkout