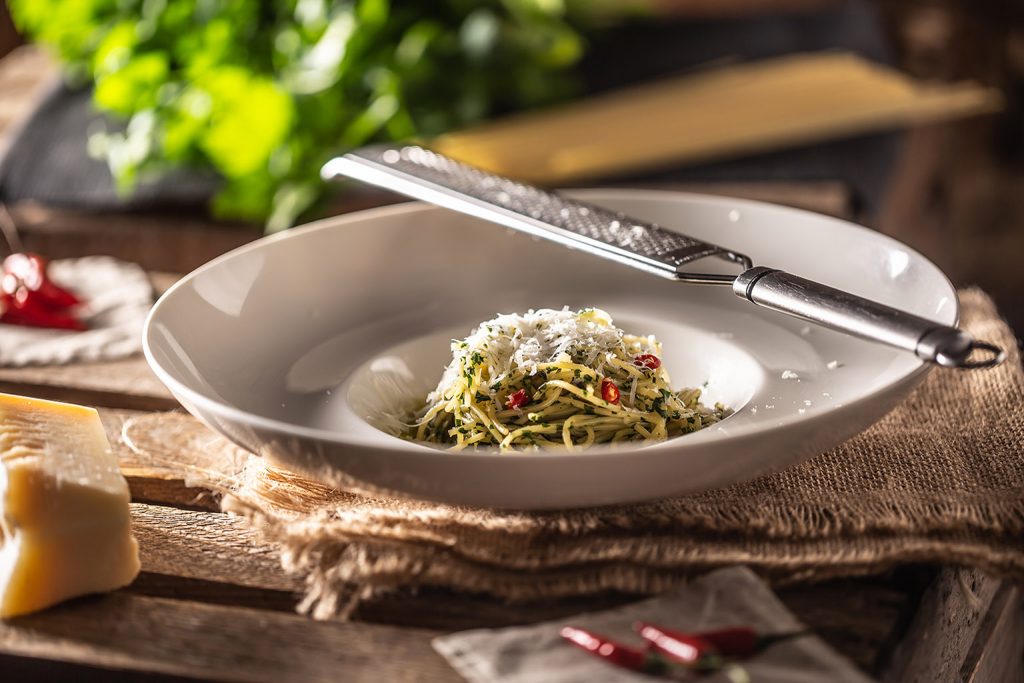 There is a very sensuous scene in the movie "Chef" where Jon Favreau makes a simple but gorgeous pasta dish for Scarlett Johansson. It's the simplest and most delicious 'Aglio e Olio' recipe. A member of our team watched The Chef show on Netflix and couldn't resist from trying it at home. The end result was so delicious that we decided to re-share the recipe with you.
All you need is dried spaghetti, plenty of garlic, red pepper flakes, parsley and your key ingredient, pure Extra Virgin Olive Oil. 
Ingredients
1 lb dried spaghetti

1 cup extra virgin olive oil

12 large garlic cloves, thin slivers

1 tbl crushed red pepper flakes

1 cup fresh parsley, minced

1/2 cup Parmesan cheese, grated

sea salt

ground black pepper

2 lemons
Method
Bring a large pot of salted water to boil and add the spaghetti, cooking until al dente 8-10 minutes.

Reserve some pasta water, then drain pasta.

Heat olive oil in a large pan over medium heat.

Add garlic and stir frequently until the garlic is golden brown.

Add red pepper flakes, salt and pepper.

Add the drained spaghetti directly to the pan.

Toss until spaghetti is thoroughly coated with the garlic oil (add reserved pasta water if necessary).

Remove pan from heat. Add the parsley, Parmesan and toss well.
(You can also try adding the parsley to the pan after the garlic is ready, then pour a cup of pasta water, stir and leave for a couple of minutes, then add the spaghetti to the pan –  we made it like this and it was delicious)

Check for flavour and adjust the salt if necessary.

Squeeze lemons to taste, garnish with more Parmesan, and enjoy!
You might also like from the Chef's Notebook