When the pandemic started almost 7 months ago, people in London and from around the world dusted off old recipe notebooks and went back to baking bread. The most precious bread recipes gave every house a nostalgic and delicious fresh-baked bread aroma again.
"According to history, the earliest bread was made in or around 8000 BC in the Middle East, specifically Egypt. The quern was the first known grinding tool. Grain was crushed and the bakers produced what we now commonly recognize in its closest form as chapatis (India) or tortillas (Mexico)."
Despite a 21st-century craze for low carbs and a rising populace of gluten-avoiders, bread seems to be making a comeback. From southern American cornbread to south Asian roti, bread has a permanent place on our plates and in our hearts. Here are some ways to taste it around the world.
01. West Indian-Style Roti (Flatbread)

Ingredients
2 1/2 cups self-rising flour (or 2 cups self-rising flour plus 1/2 cup whole-wheat flour)
2 tablespoons plus 1 teaspoon vegetable oil (divided, plus extra for the pan)
1 cup of warm water
Optional: melted artisan butter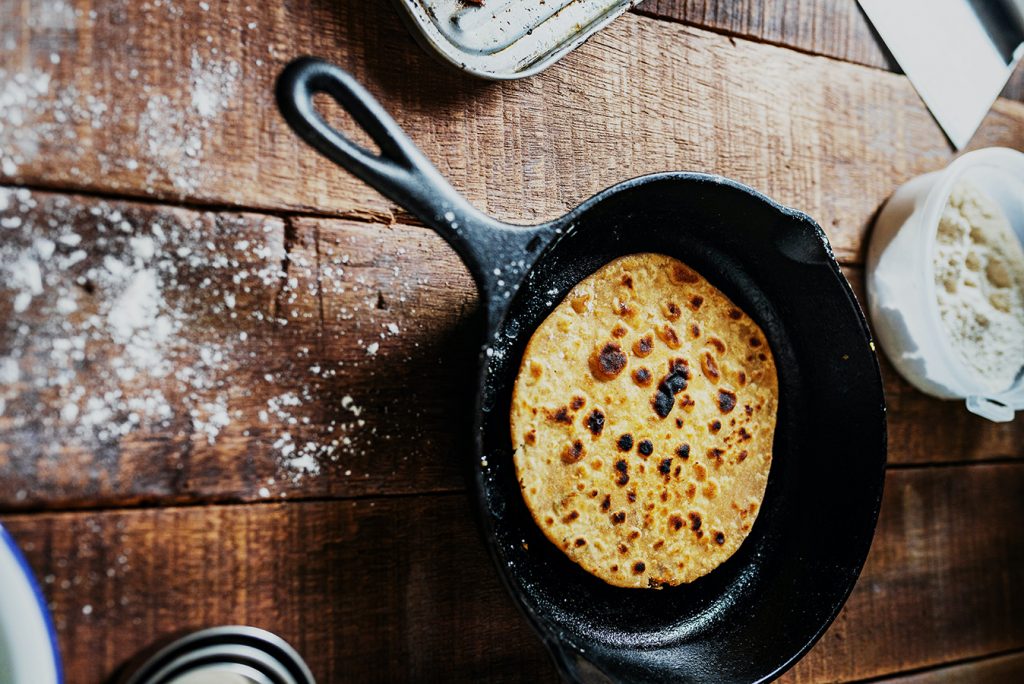 Method/ Steps
Place flour(s) in a bowl. Mix in the 2 tablespoons of vegetable oil
Add the warm water slowly, stirring as you go, until the dough starts to come together. Keep stirring, adding a little more water if the dough is dry until the dough forms a ball
Turn the dough out onto the counter and knead for a few minutes, adding a little flour if it is too sticky. The dough should be soft but not sticky enough to adhere to your hands or the counter
Let the dough rest for 10 minutes, covered with a damp cloth
Roll out the dough into a large circle, about 1/4-inch thick. Spread about 1 teaspoon vegetable oil over the surface of the dough. Roll the dough up into a long roll
Slice the log of dough into 8 to 10 pieces. Roll each piece out flat into a 6-inch circle. Let the circles rest, covered with a damp cloth, for 5 minutes
Heat a flat, heavy griddle or skillet (a cast-iron skillet or crepe pan works well) over medium-low heat
Roll the first circle of dough out as thin as possible (to about an 8- to 9-inch circle)
Add about 1 teaspoon oil to the skillet and add a circle of dough. Cook 1 to 2 minutes, until the bread, puffs up and turns light brown on the underside. Slide the roti to the side of the pan and quickly flip to brown the other side, cooking for about 1 to 2 minutes more
Remove from the pan and place roti in a colander to cool. Cover roti with a damp towel while you cook the rest; this will help keep them from becoming hard. Add more oil to the skillet as needed.
02. Crusty Country Greek Bread (Our Founder's Grandmother Recipe)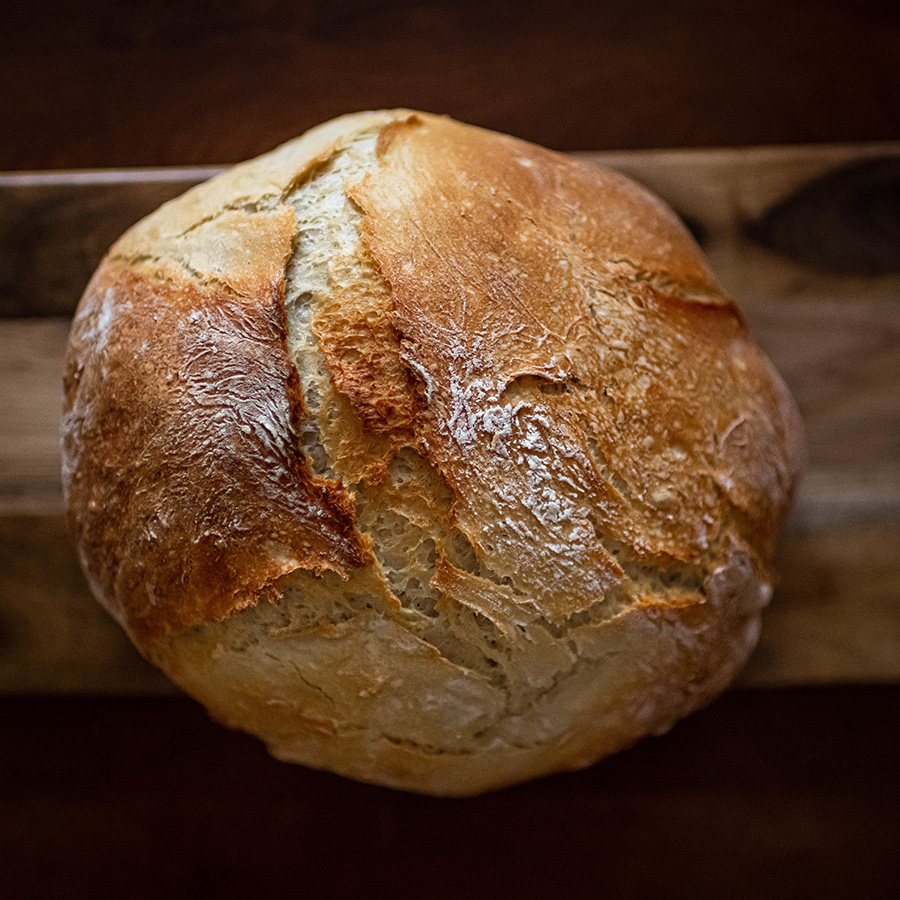 In villages around Greece, this classic bread is still sometimes baked in outdoor wood-burning ovens. This bread is ​denser than other types of bread (the loaf at right measures about 13 inches across.
Ingredients
Method
Pour the two cups of temperature warm water in a large bowl. Add and mix the yeast, the vinegar, the honey and the salt together. Start adding the flour, wear gloves and mix with hands until it's a cohesive mass and until the dough is nice and smooth and no longer sticks to the hands. Add your dough to an oven pan, cover it with a kitchen towel and add it to a pre-heated oven (turned off) for 15mins.
Take the dough out of the over, spread the two spoons of Extra Virgin olive oil on top of your dough and add it back into the over again for another 15mins.
Remove from the over. Let it cool off for 5-10mins. Enjoy it warm with butter, cheeses or your favourite salad or meal.
03. Mexican Tortillas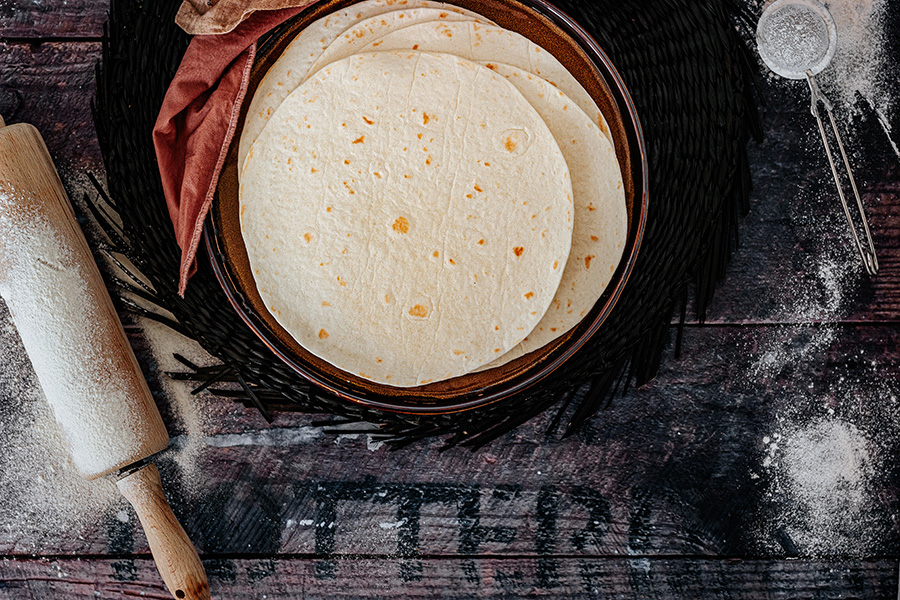 Method

In a large bowl, combine flour and salt. Stir in water and oil. Turn onto a floured surface; knead 10-12 times, adding a little flour or water if needed to achieve a smooth dough. Let rest for 10 minutes.
Divide dough into 8 portions. On a lightly floured surface, roll each portion into a 7-in. circle.
In a greased cast-iron or other heavy skillets, cook tortillas over medium heat until lightly browned, 1 minute on each side. Serve warm. View the full recipe here too
04. French Baguette
There is nothing like a freshly baked French baguette on a Sunday morning. Or any morning for that matter. Crusty and beautifully coloured on the outside, buttery soft and chewy on the inside, with a tiny bit of butter – it's just delicious.
This recipe has just 4 ingredients: water, yeast, flour, and salt. But the results are magical. And it's all because of the technique!
Start by dissolving the yeast in warm water.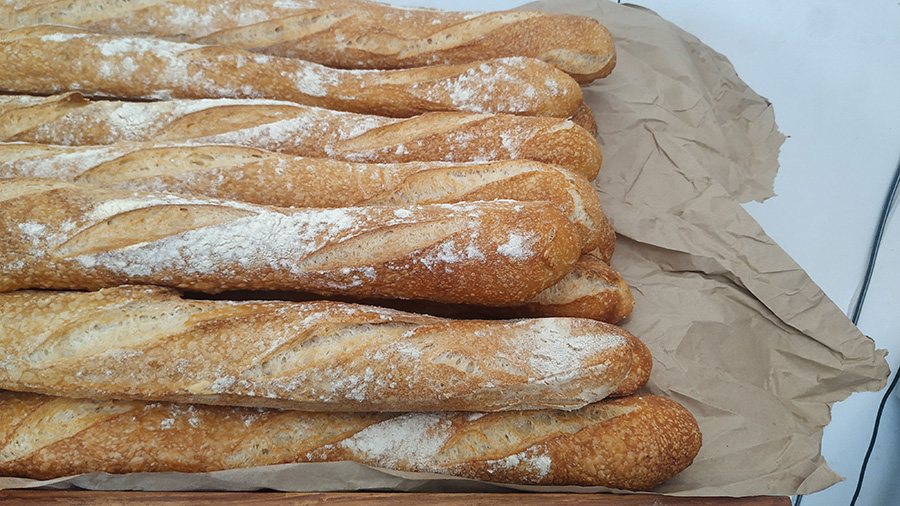 While that is doing its magic, combine the flour and salt. Create a little well in the center, and add in the yeast. Stir it around, taking flour from the outside edge and bringing it into the well, a little at a time.
Next add in a bit of cool water. Keep stirring, and adding water as needed, until a shaggy dough forms. Now just cover it loosely, and let it rest.
For this type of bread, there's not a lot of kneading involved. It only needs a few quick folds, to become smooth and build strength, without overworking the gluten and causing toughness.
Place the dough into a greased bowl and cover it tightly. Allow it to proof (or rise) in a warm place until doubled in bulk.
Divide the dough into 4 equal portions, and shape into long logs (about 15 inches long) with pointed ends. Nestle the loaves in to a floured kitchen towel, cover with oiled plastic wrap, and allow to rise a second time.
While the baguettes are rising, fill a baking pan with water and place it in the bottom of your oven. Preheat the oven and allow it to fill with steam from the water. This is the KEY to a crusty baguette.
Once the loaves have finished their second rise, remove the plastic wrap and sprinkle them with a little flour. Then quickly slash them with a lame, razor blade, or sharp knife. This is decorative, but it also allows the crust to crack and the bread to expand in a more controlled way.
Place them in the oven and let them bake until deeply golden brown. They should feel light and dry on the outside, and when you tap them they should give a hollow sound. View the full recipe here.
04. Black Forest Bread – Schwarzwaelder Kruste
Sourdough Starter:
1/2 cup/58 g light rye flour
1/2 cup/58 g medium rye flour
1/2 cup/118 g water
2 to 3 tsp. sourdough starter from the refrigerator
Sponge:
3 1/4 cup/388 g flour (bread)
1/4 tsp. yeast (instant, or 1 g. fresh)
1/8 tsp./1 g salt
1 1/5 cup/270 g water
Final Dough:
All of the sourdough and sponge
3 1/4 cups flour (bread)
1/3 cup/40 g light rye flour
1/3 cup/40 g medium rye flour
2 tsp./10 g lard (or shortening)
2 to 3 tsp./14 to 21 g salt
1 tsp./4 g yeast (instant, or 10 g. fresh)
1 1/3 cup/300 g water
Method

Mix the ingredients for the sourdough starter together by hand until it forms a ball.
Cover the starter and leave at room temperature for 12 to 18 hours. The starter can be fed on rye or white flour. The starter should have been recently fed, so if it has been in the refrigerator for a month, feed it once before starting this recipe.
Mix the ingredients for the sponge together by hand. If you are using fresh yeast or non-instant yeast, dissolve the yeast in a little of the water before you add it.
When the dough comes together to form a ball, let it sit for two hours at room temperature.
Then wrap the dough in plastic wrap and place in the refrigerator for 10 to 16 hours. You can also refrigerate both parts for up to 48 more hours if necessary.
View full recipe here