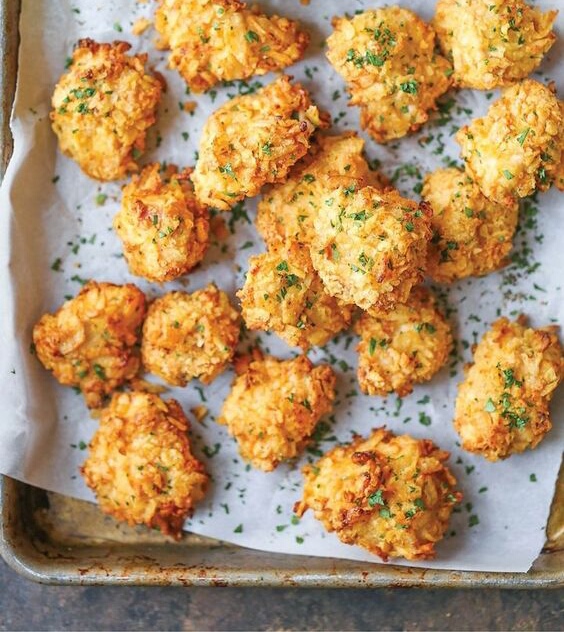 Crunchy yet soft on the outside, tender and juicy within – these moreish popcorn chicken pieces are made even more tempting by using WilderBee Hot Honey as a dipping sauce or by liberally drizzling the pieces just before serving. Read on to discover the recipe – it's something fun to make with kids, or to add to a summer buffet.
Check out more recipes from Dan Shearman, chef and WilderBee co-founder, including the delectable goats cheese and hot honey ice cream sundae… 
Ingredients (serves four)
200ml buttermilk (or you can use full fat milk, add a squeeze of lemon and leave to stand for half an hour)

 4 free range chicken thighs

125g plain flour

1 tsp paprika

½ tsp onion powder

½ tsp garlic powder

½ tsp baking soda

Sea salt and freshly ground pepper

2 free range eggs

1 tablespoon milk

Oil for deep frying

WilderBee Hot Honey for dipping or drizzling

Finely chopped coriander for garnish
How to Make WilderBee's Popcorn Chicken
1. Dice the chicken into small (popcorn sized) pieces
2. Cover completely with the buttermilk
3. Cover and refrigerate overnight (or at least for 2 hours)
4. Combine the flour and spices, baking soda, salt and pepper
5. Split into 2 plates
6. In a bowl, beat the 2 eggs and add a tablespoon of milk then place the bowl between the 2 plates of spiced flour
7. Toss the chicken pieces in the flour, dip in the egg and transfer to the second plate of flour
8. Heat the oil to deep frying temperature and place the chicken in small batches, taking care not to overcrowd the pan. Cook until the pieces turn golden brown on the outside and are cooked through. Depending on the size of the pieces this may be between 5-8 mins
9. Garnish with coriander and serve with our hot honey.
It's as simple as that. Whether you dip or you drizzle, these beauties go amazingly well with WilderBee Hot Honey – and as a salty-sweet accompaniment to drinks (why not a craft lager?) Enjoy!