Spicy Hot Cross Buns Recipe with ingredients from Todelli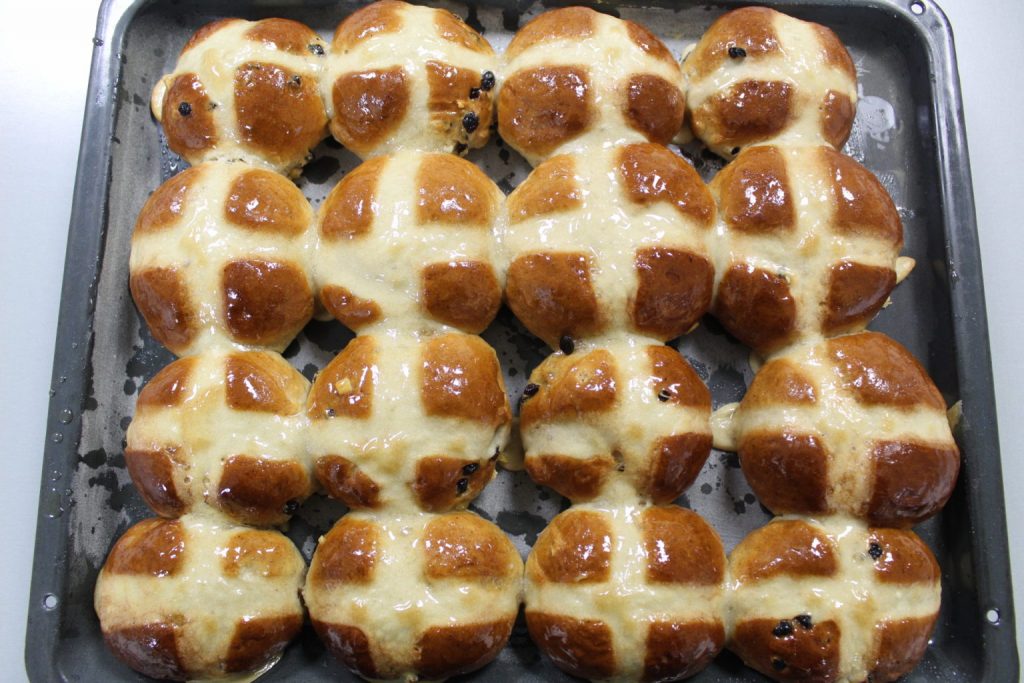 Our friends at the Cookery School at Little Portland Street have shared this lovely Hot Cross Buns recipe with us. We hope that you enjoy making it while staying at home this Easter weekend. Our best wishes from all of us here at the Todelli team to you & your families.
INGREDIENTS
450g/1 lb plain flour
15g fresh yeast or 7g active dried yeast (or 5g instant yeast)
275ml/½ pint milk-and-water
1 teaspoon each cinnamon and nutmeg
1 teaspoon salt
55g/2 oz caster sugar
70g/3 oz currants
30g/1 oz chopped candied peel
55g/2 oz melted butter or rapeseed oil
1 egg
METHOD
1. Blend the yeast with a pinch of sugar and a little of the lukewarm milk-and-water; when it is frothy add the rest of the liquid. (If using instant yeast, omit this stage and mix the yeast directly into the flour, then add the milk and water as below)
2. Pour into a bowl of the sifted flour, spices, salt, sugar. Add the butter or oil, beaten eggs and mix well.
3. Knead until a smooth, soft dough is obtained.
4. Cover with a folded cloth and leave in a warm place for about 40 minutes.
5. When the mixture has proved add the raisins and candied peel to it.
6. Now turn out the dough on to a floured board, roll or pat it out and cut it into about 16 pieces. Shape them into rounds and place, not too close together, on a greased and floured baking tray.
7. Mark firmly with a cross, using a sharp scissor or crisscross the buns with narrow strips of pastry or marzipan. Or make a cross with a flour and water paste that you pipe over each bun.
8. Leave in a warm place for 15 minutes or so, until the buns are well risen, and bake in the centre of
a hot oven, Reg. 7, 425ºF for about 15 minutes.
9. As soon as you take them out of the oven, brush them with a sugar and water glaze made using two tablespoons of sugar dissolved in two tablespoons of water. This gives the characteristic shiny top to the bun.
Flour and water paste – mix together three tablespoons of flour with sufficient water to make a thick paste.
Cut corner off small plastic bag and fill with mixture. Pipe onto buns.
Glaze – place two tablespoons of sugar and two tablespoons of water in a cup and microwave for about 20 seconds or until sugar is dissolved. Paint over buns as they come out of oven.