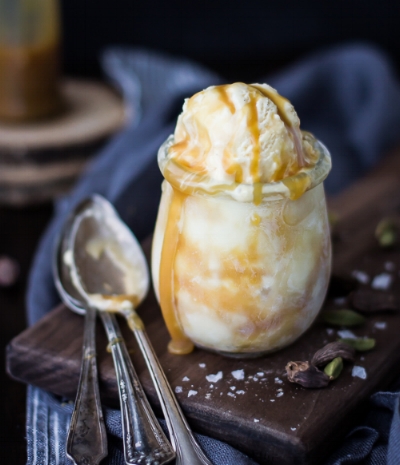 This decadent – but not too sweet – goats cheese ice cream sundae is finished to perfection with a generous drizzle of WilderBee Kitchen's hot honey. It would make a fabulous dinner party dessert, or an inventive way to cool down on a hot summer's afternoon.
Explore more recipes from chef and WilderBee's co-founder Dan Shearman – there's savoury options as well.
Ingredients (serves six)
4 large egg yolks

A good pinch of sea salt flakes

3 ounces fresh crumbled goats cheese (we like to use Wildcroft Goats Cheese from Salisbury)

300ml heavy cream

300ml whole milk

40g WilderBee per sundae
How to Make WilderBee's Goats Cheese Ice Cream
1. Begin with the softened goats cheese in a mixing bowl and gradually whisk in the cream until smooth. Place a strainer over the bowl and set aside. (Make your own Goats Cheese with milk direct from a micro-dairy farm)
2. Place the egg yolks in a medium bowl. In a heavy-bottomed saucepan, heat the milk with the sea salt until steamy and hot, stirring frequently being careful not to boil the milk. Slowly pour the hot milk into the egg yolks, whisking constantly. Return the mixture to the pan and cook over a low flame, stirring continuously until the mixture thickens slightly and/or registers 170F on a thermometer. Strain immediately into the goats cheese mixture.
3. Place over an ice bath and stir until cold. Cover and chill the mixture overnight; this allows the milk proteins to relax and makes for a smoother ice cream. When the mixture is chilled, churn it in an ice cream maker according to the manufacturer's instructions. Scrape the goats cheese ice cream into your desired freezer container, cover with a piece of parchment paper pressed directly to the surface of the ice cream and freeze until firm for a minimum of 3 hours or up to a month or two.
4. When you are ready to serve, line your sundae glass with a decent drizzle of WilderBee Hot Honey, two healthy scoops of the ice-cream and top with more WilderBee for good measure.