Make the perfect toastie with cheese from our favourite local farm. In the heart of the Dorset countryside, just outside Sturminster Newton, you'll find Woodbridge Farm which has been home to the Davies family for over 40 years.
In the early 1980s, Michael Davies resurrected Dorset Blue Vinny using a 300-year-old recipe. Richard took over running the farm from his father, Michael Davies, in 1989, when Mike moved on to produce the unique Dorset Blue Vinny Cheese full time.
Dorset Blue Vinny takes over 24 hours to make.


Each morning, they use fresh milk from our herd of 270 Friesian dairy cows. Once it's been pasteurised, hand-skimmed and the starter culture, rennet and penicillin mould added, it's ready to be made into cheese…! Read the full process of the cheese is made here
Dorset Blue Vinny & Grilled Pear Toastie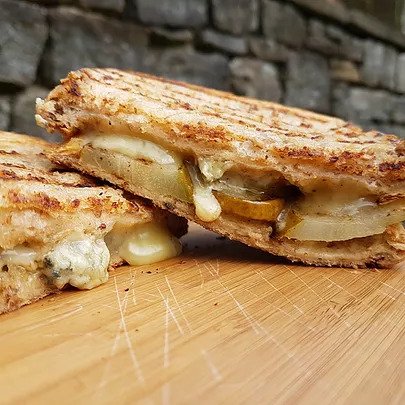 Fresh loaf of crusty bread
1 Fresh pear (finely sliced)
A good chunk of Dorset Blue Vinny
Black pepper
Butter/margarine or olive oil
Methodology
Start by melting some butter (or oil in a pan).
Slice the pear into thin slices and pop them into the pan.
Cover them in the melted butter/oil and cook for a couple of minutes on each side until it begins to soften slightly and it starts to go slightly golden around the edges.
Meanwhile, lightly butter two slices of bread.
Place the slices of pear on the NON-buttered side of the bread, add your cheese and then place the other slice of bread on top, ensuring that the butter is on the outside.
Pop your sandwich into the hot pan used to cook the pears. Grill on both sides until the bread has toasted and the cheese has melted (you might need a spatula to help you flip the sandwich).​Serve hot with a fresh salad and a few slices of our Sweet Pickled Cucumbers.
Discover more unique ingredients and buy directly from farms or independent suppliers on todelli.com