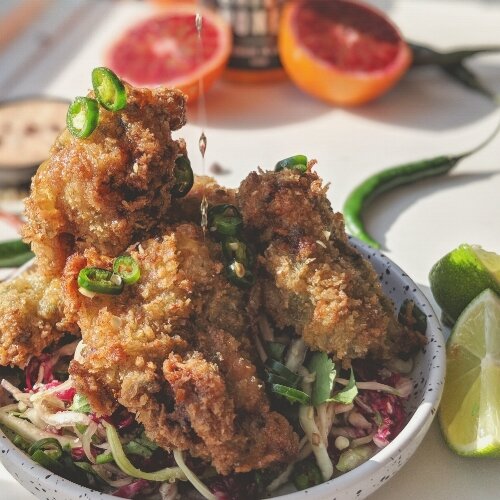 From the kitchen of WilderBee co-founder and chef Dan Shearman comes an unmissable Keralan Fried Chicken recipe, with a delicious marinade made from WilderBee's hot honey: wildflower honey infused with fierce scotch bonnets. Just two simple ingredients are enough to enrich a whole array of dishes, from pizza, to salad, to fried chicken! Read on for comfort food at its finest:
Ingredients (feeds 2)
4 free range chicken thighs – boneless
For the marinade
• 4 cloves garlic – grated
• 1 large bunch of fresh coriander
• 1 thumb whole mango ginger (or regular ginger)
• 1 tsp turmeric
• 2 whole dried chipotle chillies
• 1 whole dried ancho chilli
• 1 tsp paprika
• 50g WilderBee Hot Honey
• 1 tsp garam masala
• 0.5 tsp sea salt
• 1 tsp crushed black pepper
• Zest and juice of 1 lime
• Zest and juice of 1 blood orange (or regular orange)
• 450g natural yogurt
For the coating
• 200g plain flour
• 50g cornflour
• 50g panko breadcrumbs
• Rapeseed oil – enough to deep fry the chicken
How to make
1. Add all of the marinade ingredients to a blender and blitz to a green paste
2. In a large bowl, put the chicken thighs and pour over the marinade, making sure all the meat is well coated. Cover and refrigerate for at least 24 hours.
3. Mix all the coating ingredients together in a different bowl.
4. Coat each thigh in the breadcrumbs until a good coverage (the marinade will help it stick)
5. In a pan deep enough to deep fry the chicken, heat the oil to 175°c (if you don't have a thermometer, put a chunk of bread in and if it browns within 30 seconds then the oil is hot enough)
6. Add the chicken two pieces at a time and fry until cooked all the way through and the coating is golden brown. This should take 3-4 minutes.
7. Rest for a few minutes, sprinkle with chopped chillies (optional) and a good drizzle of hot honey (essential).
Discover WilderBee Hot Honey
WilderBee Hot Honey
£8.99
350g
Just two ingredients: wildflower honey and scotch bonnet chillies