We are thrilled to announce that Todelli is now available on Google Play Android with a specific App! Link to download the app here or search 'Todelli' on Google Play.
We made it easier and faster for both Makers and Chefs to showcase and buy fine food ingredients through our brand-new app, and connect over a click.
Optimised to take minimal storage space on your phone, no account is required to search for products and recurring security updates allow browser-to-server encryption.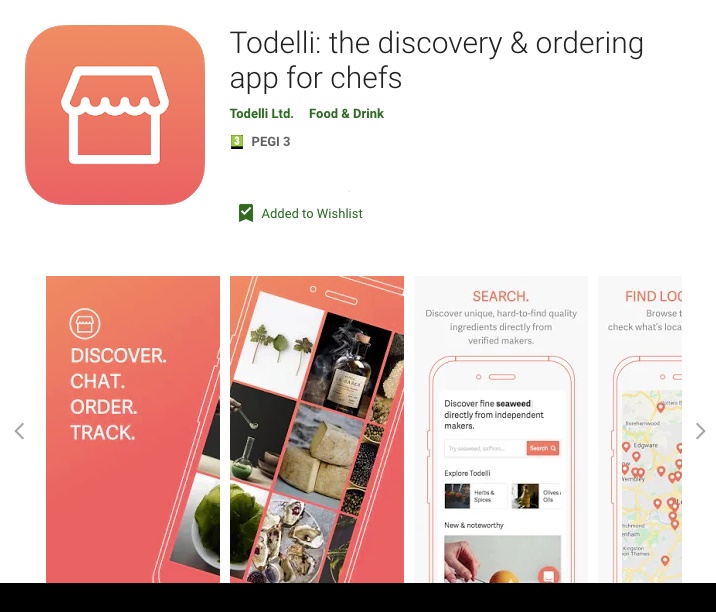 Discover & Compare
Discover what's near you first from our curated list of high-quality suppliers and reduce the mile radius of your kitchen's food supply. Ensure 100% provenance in your kitchen. Search or request for last-minute ingredients. Compare real-time prices, all available online. Need a new supplier but have no time to scout for it? Message us on the app and our team will bring you the best pool of suppliers to choose from.
Meet & Chat
Understand the story behind each ingredient & bring it to the table and to your end customer. Chat with each supplier directly from the app to ask for samples or request bespoke products.
Track orders & Manage your suppliers in one place
Check out over the click of a button and track your order in real-time. Re-ordering was never easier to remember and manage. All of your suppliers under the same roof and only one invoice at the end.
The same applies for Makers, who can update their listings and availability, message and sell directly to Chefs & Restaurateurs, and manage their orders more comfortably than ever before through the new app experience.
And to celebrate every single one of you in the food making process – Chefs, Producers, Farmers, Makers – we realised a Youtube video.
It is all about the people behind the quality ingredients of our food. The creatives of the food industry. With more food makers and more choices, we can sustain quality, transparency and a healthy environment. We can keep the art where it belongs; to the heart.
Now it is time to shop directly from the ones who help build a better, more transparent food supply chain, every day. Shop high-quality ingredients for your professional kitchen directly from the makers available on the Todelli app.